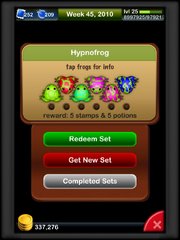 Weekly Sets were introduced in version 1.0.7, rewarding players with Stamps and Potions for collecting a defined set of frogs. Sets were released every week on Wednesday night (Thursday morning) at midnight EST (U.S. Eastern time); it requires an Internet connection to recieve the new set. Unlike when completing Awards, completing a Weekly Set does not require all frogs to be in the same Habitat. Also, the frogs will not be removed from your possession when the Weekly Set is redeemed, unlike frog requests.

The ability to complete past Weekly Sets was added in Version 1.2. However, you must view the sets in reverse chronological order. When you get a new set, you will always be offered the most recent set that you have not yet redeemed. It is not clear if players can cycle through the sets, because the sets are still not all loading with iOS.

New Weekly Sets were discontinued starting after the first week of 2014, but instead will be offered in reverse chronological order from older sets.

If the frogs required are higher than a player's level, the best way to obtain them is by placing a request on the Frog Requests Forum. Please note that while you can receive frogs above your level through the mail, you cannot breed them until you are also at the frog's level. If need more than one of the same kind of frog, and it is above your level, you can get more by purchasing clones from the Froggydex (but it is an expensive way to get the frogs you need/want). A less expensive way to get "clones" is to catalog the frog and purchase the frog from there.
2014 Sets
Week
Set Name
Frogs Required
Reward
Picture
Level
3

In Memory of Mom




Tribute to Nimblebit's David Marsh's mom who passed away this past week (the real final set)

29

stamps




29

potions

32
2

The Final Set!

(yes, really the last one - goo.gl/JVwtAu )

Purple Viola Fortuno, Golden Aurum Emblema, Green Folium Hennae, Blue Callaina Tessera, Red Tingo Gemma, Royal Floris Arcus

27 stamps

27 potions

32
1
Happy 2014
2x Black (Aurum, Callaina, Floris) Frondis; Black Albeo Janus

30 Stamps

30 Potions

29
2013 Sets
Week
Set Name
Frogs Required
Reward
Picture
Level
53
Happy Holiday 2013 (received AFTER completing 2014 week 1)
2x (Maroon, Olive, Azure) Albeo Glacio; (Maroon, Olive) Albeo Bulbus

10 stamps

10 potions

15
52
Gift Wrap
2x (Red Albeo, Golden Tingo, Azure Aurum, White Tingo) Nodare

29 stamps

29 potions

25
51
Green Garland
3x Cocos Cafea Pulvillus; 4x Olive Folium Pluma

25 Stamps

25 Potions

31
50
Peppermint Hop
2x Red Albeo (Frondis, Spira, Tabula, Bulbus)
26 Stamps

26 Potions

29
49
Let It Snow
2x Glass Albeo (Gemma, Axis, Glacio, Stellata)

20 stamps

20 potions

28
48
Thanksgiving 2013
2x (Tangelo Carota Bulbus, Golden Aurum Pulvillus, Cocos Ceres Pluma, Beige Aurum Aceris)
25 Stamps

25 Potions

31
47
Fall Frogs
2x (Golden Aurum, Red Tingo, Beige Bruna, Orange Carota) Aceris
23 Stamps

23 Potions

19
46
Veterans Day 2013
2x (Blue, Maroon) Albeo Stellata, 2x (Maroon, Blue) Albeo Americano
21 Stamps

21 Potions

26
45
Galaxy Far Away
Golden Aurum Mazeus, Blue Albeo Shelbus, Green Folium Cornus, Black (Callaina, Floris) Volta, White Picea Pistrix, Black Picea Calvaria
22 Stamps

22 Potions

29
44
Halloween 2013
2x Tangelo Aurum Lanterna, 2x Black (Albeo Calvaria, Carota Nodare, Callaina Volta)

20 stamps

20 potions

25
43
Costumes
2x (Red Tingo Cornus, Black Albeo Skeletos, Royal Callaina Papilio, Black Aurum Templum)

23 stamps

23 potions

21
42
Rainbolt
(Violet, Red, Orange, Yellow, Emerald, Azure, Blue, Purple) Albeo Figularis

23 stamps

23 potions

19
41
Lightbulbs
2x Glass Aurum (Fractus, Levar, Vicis, Volta)
30 stamps

30 potions

30
40
Frog Spotting
2x Purple Carota Magus; 2x Black Folium Ludo; 2x Lime Caelus Signum; 2x White Tingo Puncti
14 stamps

14 potions

16
39
Pirates
4x Azure Callaina Marinus; Beige Picea Axis; Orange Aurum Lunaris; Black Albeo Calvaria; Emerald Folium Gemma
18 stamps

18 potions

28
38
Firefighters
2x (Black Carota, Cocos Aurum, Olive Carota) Igneous; 2x Tangelo Aurum Shelbus
27 stamps

27 potions

24
37
Photo Session
Black Picea Foramen; Black Ceres Janus; 2x White Picea Lunaris; 2x Glass Folium Lotus
22 stamps

22 potions

31
36
Chalkboard
2x Olive Albeo (Vicis, Symphonia, Axis, Skeletos)
29 stamps

29 potions

27
35
Frog Rock
2x White Picea (Cornus, Americano, Signum, Persona)
22 stamps

22 potions

26
34
Scorching
2x Maroon Aurum (Fractus, Igneous, Lunaris, Volta)
27 stamps

27 potions

30
33 
The Blues
2x Blue Callaina (Tessera, Gemma, Arcus, Pluma)
29 stamps

29 potions

29
32
Nose Art
2x(Orange Floris Persona, Purple Callaina Pluma, Red Aurum Igneous, Violet Muscus Pictoris)
22 stamps

22 potions

24
31
Checkers
2x (Glass Picea & Glass Tingo Orbis), 4x Red Picea Scutulata
21 stamps

21 potions

25
30
FroYo
2x (Cocos Albeo, White Muscus, Violet Callaina, Beige Floris) Coclearis
27 stamps

27 potions

23
29
Summer Fruits
2x (Green Folium Frondis, Red Tingo Pulvillus, Red Aurum Insero, Blue Caelus Lunaris)
27 stamps

27 potions

31
28
Henna
2x Beige Tingo (Emblema, Hennae, Fortuno, Spira)
33 stamps

33 potions

32
27
July 4th
(Red, Blue) Albeo Americano, Maroon Aurum Botulus, Black (Callaina, Albeo, Floris) Frondis, 
25 stamps

25 potions

29
26
Lily Pads
4x Olive Folium Arcus; 2x Olive (Albeo, Floris) Lotus
28 stamps

28 potions

26
25
Twilight Zone
 2x White Picea (Frondis, Amfractus, Corona, Spira)
22 stamps

22 potions

29
24
For Dads
2x (Maroon Aurum Botulus, Azure Picea Mustacium, Blue Callaina Palma, Golden Albeo Pluma)
27 stamps

27 potions

26
23
Shark Attack
4x (Blue Caelus Marinus, Azure Picea Pistrix)
21 stamps

21 potions

29
22
Complimentary
2x (Emerald Viola Scutulata, Tangelo Caelus Dimidius, Pink Aurum Biplex, Red Folium Trivium)
24 stamps

24 potions

25
21
Memorial Day 2013
(Red & Blue) Albeo Americano, (Red & Blue) Albeo Frondis, 2x (Beige & Olive) Bruna Marmorea
20 stamps

20 potions

29
20
Fractals
2x (Violet Callaina, Emerald Pruni, Red Aurum, Purple Folium) Fractus
34 stamps

34 potions

30
19
Mothers Day 2013
2x (Marine Floris Lotus, Violet Aurum Floresco, Azure Albeo Fortuno, Lime Viola Papilio)
26 stamps

26 potions

32
18
Honeycomb
2x Golden Picea Geminus, 5x Golden Aurum Favus
24 Stamps

24 Potions

28
17
Sailboat Race
2x Blue Aurum Axis, 2x Azure Albeo Pyramis, 3x Blue Caelus Marinus
18 Stamps 18 Potions
24
16
Earth Day 2013
2x Azure Muscus Ornatus, 1x Blue Folium Planeta, 2x Blue Caelus Marinus
11 stamps

11 potions

22
15
Camping Out
6x Purple Callaina Nebula;

2x Black Carota Igneous

33 Stamps

33 Potions

30
14
Computer Frogs
6x Olive Albeo Mazeus; Black (Tingo & Folium) Vicis
28 Stamps

28 Potions

27
13
Spring!
Glass (Viola, Aurum, Albeo, Callaina) Papilio, 2x Golden Picea Flecto, Azure Aurum Fortuno
21 stamps

21 potions

32
12
Wet Paint
2x (Blue Caelus, Emerald Folium, Purple Viola, Tangelo Carota) Pictoris
24 stamps

24 potions

20
11
Pot of Gold
4x (Olive Folium Nodare, Yellow Carota Lunaris)
26 stamps

26 potions

25
10
Road Signs
2x (Golden Picea Flecto, Black Albeo Infinitas, Orange Picea Botulus, Red Picea Lunaris)
26 stamps

26 potions

26
9
Maori Tattoo
Beige Picea (Cornus, Templum, Obaro, Tribus, Pingo, Hennae, Emblema, Sol)
21 stamps

21 potions

32
8
Happy Birthday Mom!
4x Royal Aurum Lotus; 2x Purple Viola Gemma; 2x Royal Callaina Nodare
28 stamps

28 potions

28
7
A Kiss
(White Floris, White Tingo, Violet Albeo, Maroon Albeo) Roboris; Violet Albeo Janus
10 stamps

10 potions

27
6
Parrots
2x (Olive Folium, Orange Caelus, Tangelo Aurum, Green Carota) Pluma
21 stamps

21 potions

17
5
Quilting
(Marine Caelus, Red Ceres, Violet Pruni, Orange Bruna, White Tingo, Green Aurum, Purple Floris, Tangelo Pruni) Quilta
35 stamps

35 potions

31
4
Glittering Gems
2x Glass (Albeo, Viola, Folium, Caelus) Gemma
32 stamps

32 potions

28
3
Tesla Coil
2x Black (Callaina, Floris, Viola) Volta, Black Callaina Corona
19 stamps

19 potions

18
2
Temple Run
Cocos Aurum Templum, 2x Cocos (Aurum, Callaina) Pyramis, 3x Black Albeo Calvaria
23 stamps

23 potions

21
1
Happy 2013!
Black Albeo (Geminus, Orbis, Sagitta, Persona)
9 stamps

9 potions

11
2012 Sets
Week
Set Name
Frogs Required
Reward
Picture
52

Bubbly and Fireworks

2x (Golden Albeo Gyrus, 2x (Black Callaina, Black Floris, Black Folium) Signum

20 stamps
20 potions

51
Giving Gifts
2x (Red Aurum; Emerald Tingo; Maroon Albeo; Golden Tingo) Ligo

15 stamps
15 potions

50
Eight Frogdeers
(1x Red, 7x Beige) Bruna Clunicula

7 stamps
7 potions

49
Lights in the Tree
2x Olive (Bruna, Cafea) Arbor,

Olive (Aurum, Folium, Carota, Caelus) Stellata

14 stamps




14 potions

48
First Snow
2x Glass Albeo (Floresco, Signum, Glacio and Magus)

17 stamps
17 potions

47
Indian Corn
2x (Tangelo Aurum, Tangelo Tingo, White Aurum, Cocos Carota) Serpentis

11 stamps
11 potions

46
Harvest
2x (Orange Aurum Serpentis, Olive Folium Velatus, Tangelo Carota Bulbus, Orange Folium Vinaceus)

13 stamps
13 potions

45
Veterans Day
2x (Blue Albeo Stellata, Olive Bruna Velatus, Cocos Ceres Velatus, Red Albeo Partiri)
8 stamps
8 potions
44
Trick or Treat
2x (Tangelo Aurum Lanterna, Glass Albeo Persona, Green Picea Vinaceus, Beige Albeo Ligo)

14 stamps




14 potions

43
Candy Corns
2x Golden Carota Cesti, 2x White Carota Clunicula, 2x Tangelo Aurum Geminus, 2x Tangelo Albeo Persona

12 stamps




12 potions

42
Fall Sweaters
2x Black Albeo Adamantis, 2x Golden Bruna Cesti, 2x Beige Ceres Gyrus, 2x Cocos Albeo Floresco

14 stamps




14 potions

41
Bowl O Rama
7x White Tingo Geminus, 1x Black Picea Anura

11 stamps
11 potions

40
Leaf Peeping
2x Tangelo Aurum Dextera, 2x Maroon Carota Glacio, 2x Green Aurum Insero, 2x Golden Bruna Arbor

13 stamps




13 potions

39
Back to School
4x Golden Ceres Clunicula, 2x White Caelus Geminus, 2x Maroon Folium Ornatus

10 stamps
10 potions

38
Play Ball
White Tingo Bulla, Cocos Albeo Adamantis, Tangelo Picea Lucus, Lime Ceres Geminus, White Picea Trivium

10 stamps
10 potions

37
Glass Marbles
Glass (Carota Trivium, Viola Bulbus, Caelus Biplex, Aurum Corona, Floris Amfractus, Albeo Zebrae, Muscus Marmorea)

13 stamps




13 potions

36
Coral Reef

Blue (Ceres, Floris, Carota, Albeo) Arbor, 2x White Carota Partiri, White Aurum Calyx, Yellow Caelus Veru

14 stamps




14 potions

35
Palm Trees

14 stamps
14 potions

34
Hawaiian Shirts

(Blue Albeo, Emerald Albeo, Red Albeo, Tangelo Picea, Marine Ceres, Olive Albeo, Black Muscus, Azure Folium) Ornatus

14 stamps
14 potions

33
Heat Wave

2x (Glass Tingo Sagitta, Azure Aurum Sol, Glass Carota Marinus, Azure Carota Sol)

Note: If you have a ten-frog Heat Wave set, tap "Get New Set" and an eight-frog set will appear. The ten-frog set cannot be redeemed (iOS and Android version).

13 stamps




13 potions

32
Fern Frogs
2x Green Folium (Obaro, Ornatus, Zebrae, Partiri)

12 stamps




12 potions

31
Hot Dogs
Cocos (Ceres Insero, Aurum Cesti, Tingo Cesti, Folium Dextera, Albeo Adamantis), Beige Bruna Insero

11 stamps
11 potions

30
Iced Tea
2x Tangelo Ceres (Glacio, Bulla, Gyrus, Africanus)

11 stamps
11 potions

29
Kiwi Slices
2x Green Picea (Floresco, Viduo, Stellata, Glacio)

12 stamps




12 potions

28
Beachtime
2x (Azure Caelus Partiri, Beige Caelus Insero, Beige Albeo Gyrus), Beige Aurum Nimbilis, Red Albeo Bulbus

15 stamps




15 potions

27
Fireworks
Black (Aurum, Carota) Signum, Black (Callaina, Folium) Sol, Black (Albeo, Floris ) Amfractus

13 stamps




13 potions

26
Pineapple Bits
2x Yellow Aurum (Zebrae, Partiri, Velatus)
7 stamps
7 potions
25
June Bugs
2x (Marine Folium, Cocos Carota, Red Tingo, Black Bruna) Obaro

14 stamps




14 potions

24
Fathers Day 2012
2x Azure Caelus (Ligo, Pingo, Magus, Tribus)

15 stamps




15 potions

23
Kaleidoscope
Aqua Floris Stellata, Violet Muscus Adamantis, Emerald Pruni Viduo, Purple Aurum Sol, Red Callaina Corona, Marine Albeo Floresco, White Viola Glacio

12 stamps




12 potions

22
Sunflowers
Golden Bruna Nimbilis, Green Folium (Ornatus, Partiri), Yellow Bruna Nimbilis, Olive Folium (Ornatus, Partiri)

10 stamps




10 potions

21
Memorial Day
Blue Albeo Stellata, (Maroon Albeo, White Tingo) Bulbus, (Beige Ceres, Olive Bruna, Blue Callaina) Velatus

10 stamps




10 potions

20
Pizza Party
Beige Bruna (Crustalli, Velatus, Marmorea, Dextera), Orange (Tingo Puncti, Aurum Gyrus, Picea Bulla, Albeo Bovis)

10 stamps




10 potions

19
Flowers for Mom
Green Folium (Bulbus, Persona, Ornatus, Cesti), (Violet Floris, White Albeo, Purple Viola, Yellow Aurum) Obaro

15 stamps




15 potions

18
Cinco de Mayo
Emerald Muscus (Cesti, Ligo), White (Albeo Ludo, Bruna Obaro, Albeo Bulla), Red Tingo (Biplex, Insero)

13 stamps




13 potions

17
Yellow Jackets
2x Golden Picea (Geminus, Tribus, Partiri), 2x Golden Aurum Veru

12 stamps




12 potions

16
Planet Earth
2x Blue Folium (Biplex, Magus, Dextera, Obaro)

16 stamps
16 potions

15
Tribal Council
Beige Picea Tribus, Cocos Albeo Ludo, Black Ceres Trivium, Cocos Aurum Ocularis, Beige Albeo Amfractus, Black Ceres Pingo, Cocos Albeo Spinae, Beige Tingo Lucus

14 stamps




14 potions

14
Easter Eggs
Azure Albeo (Geminus, Bulbus), Violet Aurum Marinus, Emerald Folium Adamantis, Royal Aurum Amfractus, Violet Albeo Ludo, Marine Caelus Trivium, Tangelo Aurum Gyrus

13 stamps




13 potions

13
Monarch Butterfrogs
2x Black Carota (Magus, Zebrae, Pingo, Ludo)

14 stamps




14 potions

12
Ice Cream Sundae
(White, Pink, Cocos) Cafea Persona; 3x White Albeo Marinus; Red Tingo Insero

12 stamps




12 potions

11
Shamrocks
Olive Folium (Floresco, Clunicula, Puncti, Roboris, Ornatus, Ocularis, Ludo, Dextera)

12 stamps




12 potions

10
Complementary Hues
(Purple Aurum, Blue Carota, Green Tingo, Yellow Viola, Tangelo Caelus, and Red Folium) Biplex

15 stamps




15 potions

9
Sparkly Gems
(Blue Callaina, Red Tingo, Green Folium, Royal Floris, Golden Aurum, Marine Callaina, and Orange Aurum) Signum

18 stamps




18 potions

8
Snakes!
Maroon Aurum Calyx (Coral Snake), Green Folium Serpentis (Smooth Green Snake), Beige Bruna Serpentis (Burmese Python), Maroon Ceres Geminus (Corn Snake), Golden Aurum Serpentis (Yellow Rat Snake), Golden Bruna Zebrae (Garter Snake), Beige Bruna Zebrae (Ribbonsnake), and Beige Albeo Adamantis (Diamondback Rattlesnake)

10 stamps




10 potions

7
Soda Pops
Blue Tingo Biplex (Pepsi), Red Albeo Pingo (Coca-Cola), Green Tingo Orbis (Mountain Dew), Blue Folium Signum (Sprite), Maroon Albeo Sagitta (Dr. Pepper), Olive Folium Corona (Sierra Mist)

14 stamps




14 potions

6
Sweethearts
2x (White Floris, Violet Albeo, Pink Viola, Red Tingo) Obaro

14 stamps




14 potions

5
Raisins
Purple Pruni (Crustalli, Velatus, Marmorea, Zebrae, Africanus, Bovis, Dextera, Arbor)
9 stamps
9 potions
4
Laser Beams
Black (Callaina, Muscus) Bulbus, Black (Callaina, Muscus) Cesti, Black (Callaina, Muscus) Ligo, Black (Callaina, Muscus) Sagitta
15 stamps
15 potions
3
Superheroes
Golden Picea Tribus (Wolverine); Blue Albeo Stellata (Captain America); Green Viola Clunicula (The Incredible Hulk); Maroon Aurum Obaro (Iron Man); Red Caelus Mixtus (Spiderman); Black Aurum Viduo (Batman); Blue Tingo Clunicula (Superman); Olive Albeo Nimbilis (Green Lantern)
10 stamps
10 potions
2
Pandamonium
3x White Picea Clunicula, 4X Green Folium Zebrae, Red Aurum Stellata
8 stamps
8 potions
1
Pure Gold
Golden Aurum (Ornatus, Stellata, Cesti, Ludo, Sol, Corona, Ocularis, Pingo)
14 stamps
14 potions
2011 Sets
Week
Set Name
Frogs Required
Reward
Picture
52
Happy 2012!
Black Folium (Geminus, Orbis, Sagitta); Black Muscus Geminus
8 stamps
8 potions
51
Yuletide Greetings
( Red, Green) Albeo Bulbus, 2x Glass Albeo Glacio, (White Tingo, Olive Albeo) Marinus, (Olive, Red) Albeo Ligo

13 stamps




13 potions

50
Deep Freeze
2x White Cafea Arbor, Azure Albeo Glacio, Blue Albeo Signum, Glass Albeo Persona

15 stamps
15 potions

49
Ring Tones
(Purple, Green, Red, Azure, Tangelo, Yellow, Blue, Violet) Albeo Gyrus

17 stamps
17 potions

48
Binary Data
(Black Folium, White Picea, Black Albeo, White Muscus) Orbis; (Black Folium, White Picea, Black Albeo, White Muscus) Sagitta

13 stamps
13 potions

47
Pumpkin, Pies & Foliage
2x Tangelo Carota Bulbus, 2x Orange Albeo Viduo, (Golden Carota, Red Tingo, Cocos Aurum, Tangelo Bruna) Ornatus
15 stamps
15 potions
46
Galaxies
2x (Black Albeo, Purple Callaina, Black Aurum, Purple Albeo) Signum
20 stamps
20 potions
45
Hot Rods
(Tangelo Viola, Azure Albeo, Black Carota, Maroon Aurum, Blue Aurum, Black Folium, Golden Albeo, Purple Aurum) Persona
15 stamps
15 potions
44
Picking Grapes
2x (Royal Pruni, Green Folium, Purple Viola, Olive Muscus) Vinaceus
16 stamps
16 potions
43
Skeleton Crew
4x Black Ceres (Spinae, Calvaria)
15 stamps
15 potions
42
String of Pearls
2x (Beige, Marine, Purple & Royal) Albeo Bulla
12 stamps
12 potions
41
Neon Trivium
2x Black (Callaina, Aurum, Folium and Floris) Trivium
18 stamps
18 potions
40
Melon and Seeds
4x Olive Folium Bulbus, 4x Red Picea Bulla
16 stamps
16 potions
39
Mud Skippers
2x (Cocos Bruna, Cocos Cafea, Beige Bruna, Beige Cafea) Dextera
10 stamps
10 potions
38
Ocean Motion
2x (Azure Callaina, Marine Callaina, Aqua Albeo, Blue Caelus) Marinus
9 stamps
9 potions
37
Clowning Around
(Red Aurum, Yellow Carota, White Floris, Violet Callaina, Marine Albeo, Aqua Viola, Yellow Caelus, Emerald Caelus) Ludo
8 stamps
8 potions
36
Onions
2x (Orange Aurum, White Albeo, Royal Pruni) Bulbus
16 stamps
16 potions
35
Mood Frogs
8x Glass Chroma Insero
17 stamps
17 potions
34
Supernovae
8x Black Chroma Sol

14 stamps
14 potions

33
Bandaged Up
2x (Olive, Red, Blue) Albeo Ligo
13 stamps
13 potions
32
Cigars & Greenbacks
4x (Cocos Aurum, Olive Folium) Ocularis
17 stamps
17 potions
31
Ballerinas
4x (Violet, Black) Ceres Clunicula
7 stamps
7 potions
30
Stock Exchange
4x (Olive Folium,Red Tingo) Sagitta
13 stamps
13 potions
29
Blacknosed
(Green, Azure, Violet, Yellow, Pink, Marine) Picea Nasus
8 stamps
8 potions
28
Duality
4x (Black Albeo, White Picea) Biplex
18 stamps
18 potions
27
Sumo Frogs
Beige (Picea, Albeo, Tingo, Caelus) Lucus
10 stamps
10 potions
26
Angels and Demons
4x Glass Albeo Pingo, 4x Red Tingo Calvaria
19 potions
19 stamps
25
Avocado & Pit
7x Olive Aurum Insero, Cocos Ceres Anura
16 stamps
16 potions
24
Prismatics
Glass Chroma (Ocularis, Magus, Spinae, Cesti)
10 stamps
10 potions
23
Blueberries
4x Blue Picea (Stellata, Viduo)
11 stamps
11 potions
22
Neon Veru
Black (Callaina, Aurum, Folium, Floris) Veru
12 stamps
12 potions
21
Peaches and Plums
4x Maroon (Aurum, Pruni) Insero
17 stamps
17 potions
20

Strawberries




Neon Insero

4x (Red, Maroon) Folium Ornatus




Black (Callaina, Aurum, Folium, Floris) Insero

14 stamps
14 potions

11 stamps  11 potions




19
Insero Rainbow
(Tangelo Tingo, Yellow Carota, Emerald Aurum, Blue Folium, Royal Caelus, Red Viola) Insero
14 stamps
14 potions
18
Color Wheel
Black (Carota, Aurum, Muscus, Callaina, Viola, Floris) Floresco
15 stamps
15 potions
17
Aurora Borealis
2x Black Chroma (Velatus, Marmorea, Marinus, Partiri)
8 stamps
8 potions
16
Easter Time
(Red Carota, Purple Viola, Violet Floris, & Marine Viola) Insero; Marine Aurum Ligo, Azure Ceres Cesti, Marine Callaina Marinus and Lime Muscus Partiri
15 stamps
15 potions
15
Apple Halves
2x (Olive Folium, Red Tingo) Insero, 2x White Cafea Floresco
15 stamps
15 potions
14
BLT
2x Maroon Ceres Marmorea, 2X Green Folium Arbor, 2X Red Tingo Floresco
12 stamps
12 potions
13
Inkblots
White Picea (Crustalli, Nasus, Arbor, Calvaria and Magus)
11 stamps
11 potions
12
Smore
2x Beige Bruna Amfractus, Beige Albeo Insero, 2x Cocos Cafea Bovis
10 stamps
10 potions
11
Emerald Isle
Olive Albeo Cesti, White Albeo Anura, Tangelo Albeo Cesti, 4x Olive Folium Floresco
14 stamps
14 potions
10
Fade to Night
Tangelo Aurum Sol, Tangelo Viola Insero, Royal Picea Insero, and Black Aurum Stellata
10 stamps
10 potions
9
Glow in the Dark
2x Black Folium (Veru, Magus, Pingo, Ocularis)
19 stamps
19 potions
8
Earth, Fire, Water, Air
Cocos Folium Arbor, Orange Tingo Ornatus, Blue Caelus Partiri, White Caelus Sagitta
9 stamps
9 potions
7
Teen Ninja Frogs
Olive Caelus (Leonardo), Olive Carota (Michelangelo), Olive Tingo (Raphael) and Olive Viola (Donatello) Ligo
10 stamps
10 potions
6
Floris Arrangement
(White, Yellow, Aqua, Purple, Marine, Royal, Lime and Azure) Floris Roboris
9 stamps
9 potions
5
Fine China
4x White Caelus (Pingo, Ornatus)
16 stamps
16 potions
4
Double Rainbow
(Red, Orange, Yellow, Green, Blue, Purple and Pink) Chroma Sol
13 stamps
13 potions
3
Argyle Socks
2x (Beige Bruna, Marine Ceres, Violet Pruni) Adamantis
7 stamps
7 potions
2
Full Deck
White Picea Roboris and Floresco, White Tingo Roboris and Adamantis
8 stamps
8 potions
1
Chocolate Blues
Azure Bruna (Partiri, Marmorea, Puncti, Zebrae, Cesti and Bovis)
8 stamps
8 potions
2010 Sets
Week
Set Name
Frogs Required
Reward
Picture
52
Winter Magic
(Azure Albeo, White Callaina, Aqua Caelus, Blue Albeo, White Caelus, Marine Albeo, Purple Albeo, Glass Albeo) Glacio
7 stamps
7 potions
51
Whiteout
White Albeo (Anura, Puncti, Zebrae, Adamantis, Africanus, Clunicula, Roboris, and Stellata)
8 stamps
8 potions
50
Lights and Canes
(Red, Emerald, Yellow, Blue) Muscus Clunicula, and 4x Red Albeo Partiri
8 stamps
8 potions
49
Puddle Jumpers
Azure Callaina (Marmorea, Velatus, Partiri, Puncti, Bovis & Spinae)
8 stamps
8 potions
48
Bullseye
4x (White Tingo, Red Albeo) Corona
16 stamps
16 potions
47
Hawaiian Sunset
Royal Carota Sol and 7x Tangelo Viola Insero
17 stamps
17 potions
46
Autumn Evolution
Beige (Folium, Aurum, Carota, and Bruna) Ornatus
9 stamps
9 potions
45
Hypnofrog
2x Green Chroma (Bovis, Velatus, and Marmorea)
7 stamps
7 potions