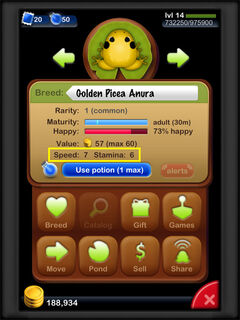 Speed and stamina
are two statistics that affect frogs' performance in
Frog Racing
.
Each particular breed of frog (that is, combination of base color, pattern color, and pattern) will have a predetermined speed rating and a predetermined stamina rating that will not vary between frogs of the same breed. For example, all Golden Picea Anura will have a speed of 7 and a stamina of 6, while all Golden Muscus Anura will have a speed of 6 and a stamina of 6.
Therefore if you plan on racing repeatedly, it is worthwhile to acquire the optimal speed/stamina frog for a particular level to use for racing in order to greatly increase your chances of winning in each race.
The maximum speed or stamina for any breed of frog will be at or close to 7 times the rarity level of the frog's pattern. Higher-level frogs may be a point or two below; for example, the best level 10 frog has a rating of 68 (not 70) for speed or stamina.
The minimum speed or stamina will be more than 5 times the rarity level.
Min / Max
The Frog Racing Value Database contains the speed and stamina for most frogs.
| Level | Min | Max | Optimal Breed |
| --- | --- | --- | --- |
| 1 | 6 | 7 | Orange Floris Anura |
| 2 | 11 | 14 | Pink Floris Crustalli |
| 3 | 16 | 21 | Red Tingo Glacio |
| 4 | 21 | 28 | Lime Folium Zebrae |
| 5 | 27 | 34 | Red Folium Nasus |
| 6 | 32? | 41 | Royal Bruna Mixtus |
| 7 | 37? | 48? | |
| 8 | 42? | 55? | |
| 9 | 47? | 62? | |
| 10 | 52? | 68 | |
| 11 | 64? | ? | |
| 12 | ? | ? | |
| 13 | ? | ? | |
| 14 | ? | ? | |
| 15 | ? | 102 | Maroon Viola Floresco |
| 16 | 84 | 109 | Multiple Breeds (see Magus/Veru/Signum) |
| 17 | ? | ? | |
| 18 | ? | ? | |
| 19 | ? | ? | |
| 20 | ? | ? | |
| 21 | ? | ? | |
| 22 | ? | ? | |
| 23 | ? | ? | |
| 24 | ? | ? | |
| 25 | ? | ? | |
| 26 | ? | ? | |
| 27 | ? | ? | |
| 28 | ? | ? | |
| 29 | ? | ? | |
| 30 | ? | ? | |
| 31 | ? | ? | |
| 32 | ? | ? | |