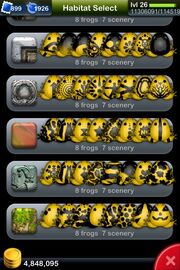 Picea is a frog pattern or secondary color. Picea is the Latin name for pitch pine trees, which may be a reference to "black as pitch." The Black base color is very similar, but Picea will show slightly darker.
Picea frogs are required for a number of awards:
White Picea frogs are very popular in awards. A White Picea Spinae can be used for two different awards (the Black and White and the Yin Yang).
Weekly Sets
Trick or Treat: Green Picea Vinaceus x2
Bowl O Rama: Black Picea Anura
Play Ball: Tangelo Picea Lucus
Kiwi Slices: Green Picea Floresco x2, Green Picea Glacio x2, Green Picea Viduo x2, Green Picea Stellata x2
Yellow Jackets: Golden Picea Geminus x2, Golden Picea Partiri x2, Golden Picea Tribus x2
Tribal Council: Beige Picea Tribus
Superheroes: Golden Picea Tribus
Pandamonium: White Picea Clunicula x3
Binary Data: White Picea Orbis, White Picea Sagitta
Melon and Seeds: Red Picea Bulla x4
Blacknosed: Azure Picea Nasus, Green Picea Nasus, Violet Picea Nasus, Yellow Picea Nasus, Pink Picea Nasus, Marine Picea Nasus
Duality: White Picea Biplex x4
Sumo Frogs: Beige Picea Lucus
Blueberries: Blue Picea Stellata x4, Blue Picea Viduo x4
Inkblots: White Picea Nasus, White Picea Calvaria, White Picea Crustalli, White Picea Magus, White Picea Arbor
Fade to Night: Royal Picea Insero
Full Deck: White Picea Floresco, White Picea Roboris