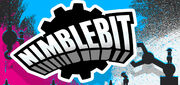 NimbleBit is the game development company which developed Pocket Frogs. It is an indie studio made up of Ian Marsh, his twin brother David Marsh, and Brian Cronin. They have made many successful games along with Pocket Frogs.
Other Applications
Other Applications by NimbleBit Include: For iPhone/ iPod Touch:
Disco Zoo
Pocket Trains
Nimble Quest
Pocket Frogs Splash
Bluebird
Fishtropolis
Hanoi
Hanoi Plus
Kyper
Moon Drop
Pocket Frogs
Scoops
Sky burger
Textropolis
Threads
Up With A Fish
Pocket Trains
For iPad:
Dizzypad HD
Pocket Frogs
Omnium
NimbleBit has also made the PC game Zero Gear , which is available to download via Steam.
External Links