Jurassic World: Dominion Dominates Fandom Wikis - The Loop
Play Sound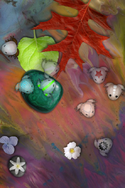 Glass frogs are pale grey translucent frogs that can be obtained by breeding certain combinations of frogs. Many of, but not all, of these combinations are listed in the table below. It is also possible to find them in the frog racing mini-game.
As with the Chroma trait, one can tell whether or not the selected parents have the chance of bearing offspring with the desired trait at the breeding screen. It will be displayed as one of the possible offspring, replacing one of the "normal" offspring possibilities. Having two of the listed parents does not guarantee that they will produce a Glass offspring. A Glass variant only replaces its normal counterpart with specific breeding pairs. The regular variant can be bred using a different pairing.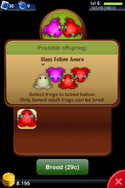 When pursuing the Breed Expert award, attempting to breed a Black Picea Anura with a Cocos Cafea Anura will not produce a Black Cafea Anura - that variant will be replaced with a Glass Cafea Anura. Attaining the Black Cafea Anura is still possible, however, by breeding the Black Picea Anura with a different base-colored Cafea Anura.
Since the method of acquiring Glass frogs through breeding is not always guaranteed, many players obtain Glass frogs through the race game. Glass frogs can appear as opponents and if the race is won, the frog selected by the user is guaranteed.
As a primary trait, Glass is inherited normally when breeding from Glass parents. As Chroma is a secondary trait, it is possible to have Glass Chroma frogs, which are popular for their unusual looks.
After the 3.0 update, the combinations to obtain the glass trait changed.
Glass Combinations
Table entries with an X in the last column have been verified to be correct for the current version of the game. (Combinations changed between versions 2 and 3 and some of these entries may not be valid anymore.) If you find a combination that works and isn't marked as validated, please add an X in the last column. If you find a combination that doesn't work anymore please remove it so other users don't spend time breeding frogs for a non-working entry.
Below are some of the combinations of parent frogs that result in the chance to have offspring with the Glass primary color:
| Parent 1 | Parent 2 | Result | Validated? |
| --- | --- | --- | --- |
| Maroon Tingo Anura | Lime Folium Anura | Glass Tingo Anura | X |
| Maroon Tingo Anura | Purple Carota Anura | Glass Tingo Anura | X |
| Maroon Carota Anura | Purple Tingo Anura | Glass Tingo Anura | |
| Maroon Folium Anura | Lime Tingo Anura | Glass Tingo Anura | X |
| Maroon Folium Anura | Purple Ceres Anura | Glass Ceres Anura | X |
| Maroon Folium Anura | Purple Cafea Anura | Glass Folium Anura | X |
| Maroon Muscus Anura | Purple Pruni Anura | Glass Muscus Anura | |
| Maroon Callaina Anura | Lime Cafea Anura | Glass Cafea Anura | |
| Maroon Callaina Anura | Azure Viola Anura | Glass Viola Anura | |
| Maroon Callaina Anura | Purple Viola Anura | Glass Viola Anura | |
| Maroon Caelus Anura | Azure Floris Anura | Glass Floris Anura | |
| Maroon Pruni Anura | Purple Ceres Anura | Glass Pruni Anura | |
| Maroon Pruni Anura | Purple Muscus Anura | Glass Muscus Anura | |
| Maroon Viola Anura | Azure Callaina Anura | Glass Viola Anura | |
| Maroon Viola Anura | Purple Callaina Anura | Glass Viola Anura | |
| Maroon Ceres Anura | Purple Folium Anura | Glass Ceres Anura | |
| Maroon Ceres Anura | Purple Pruni Anura | Glass Pruni Anura | |
| Maroon Floris Anura | Azure Caelus Anura | Glass Floris Anura | |
| Maroon Cafea Anura | Lime Callaina Anura | Glass Cafea Anura | |
| Maroon Cafea Anura | Purple Folium Anura | Glass Folium Anura | |
| Red Tingo Anura | White Carota Anura | Glass Tingo Anura | |
| Red Carota Anura | Green Folium Anura | Glass Carota Anura | |
| Red Carota Anura | White Tingo Anura | Glass Tingo Anura | |
| Red Carota Anura | Beige Aurum Anura | Glass Aurum Anura | |
| Red Carota Anura | Beige Folium Anura | Glass Carota Anura | |
| Red Aurum Anura | Beige Carota Anura | Glass Aurum Anura | |
| Red Folium Anura | Green Carota Anura | Glass Carota Anura | |
| Red Folium Anura | White Ceres Anura | Glass Ceres Anura | |
| Red Folium Anura | White Cafea Anura | Glass Folium Anura | |
| Red Folium Anura | Beige Carota Anura | Glass Carota Anura | |
| Red Muscus Anura | White Pruni Anura | Glass Muscus Anura | |
| Red Pruni Anura | White Muscus Anura | Glass Muscus Anura | |
| Red Ceres Anura | White Folium Anura | Glass Ceres Anura | |
| Red Cafea Anura | White Folium Anura | Glass Folium Anura | |
| Orange Cafea Anura | Cocos Picea Anura | Glass Picea Anura | |
| Orange Picea Anura | Cocos Cafea Anura | Glass Picea Anura | |
| Green Carota Anura | Emerald Folium Anura | Glass Carota Anura | |
| Green Folium Anura | Emerald Carota Anura | Glass Carota Anura | |
| Marine Callaina Anura | Cocos Cafea Anura | Glass Cafea Anura | X |
| Marine Cafea Anura | Cocos Callaina Anura | Glass Cafea Anura | |
| Azure Callaina Anura | Cocos Cafea Anura | Glass Callaina Anura | |
| Azure Cafea Anura | Cocos Callaina Anura | Glass Callaina Anura | |
| Olive Cafea Anura | Green Folium Anura | Glass Folium Anura | |
| Maroon Tingo Anura | Beige Floris Crustalli | Glass Floris Crustalli | |
| Maroon Tingo Anura | Cocos Callaina Crustalli | Glass Tingo Anura | |
| Maroon Carota Anura | Yellow Ceres Crustalli | Glass Carota Crustalli | |
| Maroon Carota Anura | Yellow Bruna Crustalli | Glass Bruna Crustalli | |
| Maroon Carota Anura | Royal Ceres Crustalli | Glass Carota Crustalli | |
| Maroon Carota Anura | Royal Bruna Crustalli | Glass Bruna Crustalli | |
| Maroon Carota Anura | White Cafea Crustalli | Glass Cafea Anura | |
| Maroon Carota Anura | Cocos Muscus Crustalli | Glass Muscus Anura | |
| Maroon Aurum Anura | Yellow Pruni Crustalli | Glass Aurum Crustalli | |
| Maroon Aurum Anura | Emerald Callaina Crustalli | Glass Callaina Anura | |
| Maroon Folium Anura | Royal Folium Crustalli | Glass Folium Crustalli | |
| Maroon Folium Anura | White Viola Crustalli | Glass Viola Anura | |
| Maroon Muscus Anura | Royal Callaina Crustalli | Glass Muscus Crustalli | |
| Maroon Muscus Anura | White Cafea Crustalli | Glass Muscus Anura | |
| Maroon Muscus Anura | Beige Viola Crustalli | Glass Viola Crustalli | |
| Maroon Muscus Anura | Cocos Carota Crustalli | Glass Muscus Anura | |
| Maroon Callaina Anura | Emerald Aurum Crustalli | Glass Callaina Anura | |
| Maroon Callaina Anura | Royal Muscus Crustalli | Glass Muscus Crustalli | |
| Maroon Callaina Anura | Cocos Tingo Crustalli | Glass Tingo Anura | |
| Maroon Caelus Anura | Yellow Pruni Crustalli | Glass Pruni Crustalli | |
| Maroon Caelus Anura | Emerald Picea Crustalli | Glass Caelus Anura | |
| Maroon Pruni Anura | Yellow Aurum Crustalli | Glass Aurum Crustalli | |
| Maroon Pruni Anura | Yellow Caelus Crustalli | Glass Pruni Crustalli | |
| Maroon Pruni Anura | Cocos Bruna Crustalli | Glass Bruna Anura | |
| Maroon Viola Anura | White Folium Crustalli | Glass Viola Anura | |
| Maroon Viola Anura | Beige Muscus Crustalli | Glass Viola Crustalli | |
| Maroon Ceres Anura | Yellow Carota Crustalli | Glass Carota Crustalli | |
| Maroon Ceres Anura | Royal Carota Crustalli | Glass Carota Crustalli | |
| Maroon Ceres Anura | Beige Chroma Crustalli | Glass Ceres Crustalli | |
| Maroon Floris Anura | Beige Tingo Crustalli | Glass Floris Crustalli | |
| Maroon Albeo Anura | Emerald Picea Crustalli | Glass Picea Anura | |
| Maroon Bruna Anura | Yellow Carota Crustalli | Glass Bruna Crustalli | |
| Maroon Bruna Anura | Royal Carota Crustalli | Glass Bruna Crustalli | |
| Maroon Bruna Anura | Beige Cafea Crustalli | Glass Cafea Crustalli | |
| Maroon Bruna Anura | Cocos Pruni Crustalli | Glass Bruna Anura | |
| Maroon Cafea Anura | White Carota Crustalli | Glass Cafea Anura | |
| Maroon Cafea Anura | White Muscus Crustalli | Glass Muscus Anura | |
| Maroon Cafea Anura | Beige Bruna Crustalli | Glass Cafea Crustalli | |
| Maroon Picea Anura | Emerald Caelus Crustalli | Glass Caelus Anura | |
| Maroon Picea Anura | Emerald Albeo Crustalli | Glass Picea Anura | |
| Maroon Chroma Anura | Beige Ceres Crustalli | Glass Ceres Crustalli | |
| Red Tingo Anura | Emerald Callaina Crustalli | Glass Tingo Crustalli | |
| Red Tingo Anura | Royal Viola Crustalli | Glass Tingo Crustalli | |
| Red Carota Anura | Orange Caelus Crustalli | Glass Caelus Crustalli | |
| Red Carota Anura | Emerald Muscus Crustalli | Glass Muscus Anura | |
| Red Carota Anura | Olive Ceres Crustalli | Glass Carota Crustalli | |
| Red Carota Anura | Olive Bruna Crustalli | Glass Bruna Crustalli | |
| Red Carota Anura | Purple Muscus Crustalli | Glass Muscus Anura | |
| Red Aurum Anura | Emerald Floris Crustalli | Glass Aurum Anura | |
| Red Aurum Anura | Marine Callaina Crustalli | Glass Callaina Anura | |
| Red Folium Anura | Emerald Ceres Crustalli | Glass Folium Anura | |
| Red Folium Anura | Olive Folium Crustalli | Glass Folium Crustalli | |
| Red Folium Anura | Purple Pruni Crustalli | Glass Pruni Anura | |
| Red Muscus Anura | Emerald Carota Crustalli | Glass Muscus Anura | |
| Red Muscus Anura | Olive Callaina Crustalli | Glass Muscus Crustalli | |
| Red Muscus Anura | Purple Carota Crustalli | Glass Muscus Anura | |
| Red Muscus Anura | Royal Viola Crustalli | Glass Viola Crustalli | |
| Red Callaina Anura | Emerald Tingo Crustalli | Glass Tingo Crustalli | |
| Red Callaina Anura | Olive Muscus Crustalli | Glass Muscus Crustalli | |
| Red Callaina Anura | Marine Aurum Crustalli | Glass Callaina Anura | |
| Red Caelus Anura | Orange Carota Crustalli | Glass Caelus Crustalli | |
| Red Pruni Anura | Purple Folium Crustalli | Glass Pruni Anura | |
| Red Viola Anura | Royal Tingo Crustalli | Glass Tingo Crustalli | |
| Red Viola Anura | Royal Muscus Crustalli | Glass Viola Crustalli | |
| Red Ceres Anura | Emerald Folium Crustalli | Glass Folium Anura | |
| Red Ceres Anura | Olive Carota Crustalli | Glass Carota Crustalli | |
| Red Floris Anura | Emerald Aurum Crustalli | Glass Aurum Anura | |
| Red Bruna Anura | Olive Carota Crustalli | Glass Bruna Crustalli | |
| Orange Carota Anura | Red Caelus Crustalli | Glass Caelus Crustalli | |
| Orange Caelus Anura | Red Carota Crustalli | Glass Caelus Crustalli | |
| Yellow Carota Anura | Maroon Ceres Crustalli | Glass Carota Crustalli | |
| Yellow Carota Anura | Maroon Bruna Crustalli | Glass Bruna Crustalli | |
| Yellow Aurum Anura | Maroon Pruni Crustalli | Glass Aurum Crustalli | |
| Yellow Caelus Anura | Maroon Pruni Crustalli | Glass Pruni Crustalli | |
| Yellow Pruni Anura | Maroon Aurum Crustalli | Glass Aurum Crustalli | |
| Yellow Pruni Anura | Maroon Caelus Crustalli | Glass Pruni Crustalli | |
| Yellow Ceres Anura | Maroon Carota Crustalli | Glass Carota Crustalli | |
| Yellow Bruna Anura | Maroon Carota Crustalli | Glass Bruna Crustalli | |
| Emerald Tingo Anura | Red Callaina Crustalli | Glass Tingo Crustalli | |
| Emerald Carota Anura | Red Muscus Crustalli | Glass Muscus Anura | |
| Emerald Aurum Anura | Maroon Callaina Crustalli | Glass Callaina Anura | |
| Emerald Aurum Anura | Red Floris Crustalli | Glass Aurum Anura | |
| Emerald Folium Anura | Red Ceres Crustalli | Glass Folium Anura | |
| Emerald Muscus Anura | Red Carota Crustalli | Glass Muscus Anura | |
| Emerald Callaina Anura | Maroon Aurum Crustalli | Glass Callaina Anura | |
| Emerald Callaina Anura | Red Tingo Crustalli | Glass Tingo Crustalli | |
| Emerald Caelus Anura | Maroon Picea Crustalli | Glass Caelus Anura | |
| Emerald Ceres Anura | Red Folium Crustalli | Glass Folium Anura | |
| Emerald Floris Anura | Red Aurum Crustalli | Glass Aurum Anura | |
| Emerald Albeo Anura | Maroon Picea Crustalli | Glass Picea Anura | |
| Emerald Picea Anura | Maroon Caelus Crustalli | Glass Caelus Anura | |
| Emerald Picea Anura | Maroon Albeo Crustalli | Glass Picea Anura | |
| Olive Carota Anura | Red Ceres Crustalli | Glass Carota Crustalli | |
| Olive Carota Anura | Red Bruna Crustalli | Glass Bruna Crustalli | |
| Olive Folium Anura | Red Folium Crustalli | Glass Folium Crustalli | |
| Olive Muscus Anura | Red Callaina Crustalli | Glass Muscus Crustalli | |
| Olive Callaina Anura | Red Muscus Crustalli | Glass Muscus Crustalli | |
| Olive Ceres Anura | Red Carota Crustalli | Glass Carota Crustalli | |
| Olive Bruna Anura | Red Carota Crustalli | Glass Bruna Crustalli | |
| Marine Aurum Anura | Red Callaina Crustalli | Glass Callaina Anura | |
| Marine Callaina Anura | Red Aurum Crustalli | Glass Callaina Anura | |
| Purple Carota Anura | Red Muscus Crustalli | Glass Muscus Anura | |
| Purple Folium Anura | Red Pruni Crustalli | Glass Pruni Anura | |
| Purple Muscus Anura | Red Carota Crustalli | Glass Muscus Anura | |
| Purple Pruni Anura | Red Folium Crustalli | Glass Pruni Anura | |
| Royal Tingo Anura | Red Viola Crustalli | Glass Tingo Crustalli | |
| Royal Carota Anura | Maroon Ceres Crustalli | Glass Carota Crustalli | |
| Royal Carota Anura | Maroon Bruna Crustalli | Glass Bruna Crustalli | |
| Royal Folium Anura | Maroon Folium Crustalli | Glass Folium Crustalli | |
| Royal Muscus Anura | Maroon Callaina Crustalli | Glass Muscus Crustalli | |
| Royal Muscus Anura | Red Viola Crustalli | Glass Viola Crustalli | |
| Royal Callaina Anura | Maroon Muscus Crustalli | Glass Muscus Crustalli | |
| Royal Viola Anura | Red Tingo Crustalli | Glass Tingo Crustalli | |
| Royal Viola Anura | Red Muscus Crustalli | Glass Viola Crustalli | |
| Royal Ceres Anura | Maroon Carota Crustalli | Glass Carota Crustalli | |
| Royal Bruna Anura | Maroon Carota Crustalli | Glass Bruna Crustalli | |
| White Carota Anura | Maroon Cafea Crustalli | Glass Cafea Anura | |
| White Folium Anura | Maroon Viola Crustalli | Glass Viola Anura | |
| White Muscus Anura | Maroon Cafea Crustalli | Glass Muscus Anura | |
| White Viola Anura | Maroon Folium Crustalli | Glass Viola Anura | |
| White Cafea Anura | Maroon Carota Crustalli | Glass Cafea Anura | |
| White Cafea Anura | Maroon Muscus Crustalli | Glass Muscus Anura | |
| Beige Tingo Anura | Maroon Floris Crustalli | Glass Floris Crustalli | |
| Beige Muscus Anura | Maroon Viola Crustalli | Glass Viola Crustalli | |
| Beige Viola Anura | Maroon Muscus Crustalli | Glass Viola Crustalli | |
| Beige Ceres Anura | Maroon Chroma Crustalli | Glass Ceres Crustalli | |
| Beige Floris Anura | Maroon Tingo Crustalli | Glass Floris Crustalli | |
| Beige Bruna Anura | Maroon Cafea Crustalli | Glass Cafea Crustalli | |
| Beige Cafea Anura | Maroon Bruna Crustalli | Glass Cafea Crustalli | |
| Beige Chroma Anura | Maroon Ceres Crustalli | Glass Ceres Crustalli | |
| Cocos Tingo Anura | Maroon Callaina Crustalli | Glass Tingo Anura | |
| Cocos Carota Anura | Maroon Muscus Crustalli | Glass Muscus Anura | |
| Cocos Muscus Anura | Maroon Carota Crustalli | Glass Muscus Anura | |
| Cocos Callaina Anura | Maroon Tingo Crustalli | Glass Tingo Anura | |
| Cocos Pruni Anura | Maroon Bruna Crustalli | Glass Bruna Anura | |
| Cocos Bruna Anura | Maroon Pruni Crustalli | Glass Bruna Anura | |
| Maroon Pruni Anura | Blue Albeo Velatus | Glass Albeo Velatus | |
| Maroon Albeo Anura | Blue Pruni Velatus | Glass Albeo Velatus | |
| Maroon Cafea Anura | Aqua Picea Velatus | Glass Picea Velatus | |
| Maroon Picea Anura | Aqua Cafea Velatus | Glass Picea Velatus | |
| Aqua Cafea Anura | Maroon Picea Velatus | Glass Picea Velatus | |
| Aqua Picea Anura | Maroon Cafea Velatus | Glass Picea Velatus | |
| Blue Pruni Anura | Maroon Albeo Velatus | Glass Albeo Velatus | |
| Blue Albeo Anura | Maroon Pruni Velatus | Glass Albeo Velatus | |
| Maroon Tingo Anura | Red Aurum Clunicula | Glass Tingo Clunicula | |
| Maroon Tingo Anura | Red Pruni Clunicula | Glass Pruni Clunicula | |
| Maroon Tingo Anura | Olive Callaina Clunicula | Glass Callaina Clunicula | |
| Maroon Tingo Anura | Olive Cafea Clunicula | Glass Cafea Clunicula | |
| Maroon Carota Anura | Olive Albeo Clunicula | Glass Carota Anura | |
| Maroon Carota Anura | Pink Caelus Clunicula | Glass Carota Clunicula | |
| Maroon Carota Anura | Pink Albeo Clunicula | Glass Albeo Clunicula | |
| Maroon Aurum Anura | Red Tingo Clunicula | Glass Tingo Clunicula | |
| Maroon Folium Anura | Emerald Cafea Clunicula | Glass Folium Anura | |
| Maroon Callaina Anura | Olive Tingo Clunicula | Glass Callaina Clunicula | |
| Maroon Callaina Anura | Pink Ceres Clunicula | Glass Callaina Clunicula | |
| Maroon Caelus Anura | Pink Carota Clunicula | Glass Carota Clunicula | |
| Maroon Pruni Anura | Red Tingo Clunicula | Glass Pruni Clunicula | |
| Maroon Pruni Anura | Pink Picea Clunicula | Glass Picea Clunicula | |
| Maroon Ceres Anura | Pink Callaina Clunicula | Glass Callaina Clunicula | |
| Maroon Albeo Anura | Olive Carota Clunicula | Glass Carota Anura | |
| Maroon Albeo Anura | Pink Carota Clunicula | Glass Albeo Clunicula | |
| Maroon Cafea Anura | Emerald Folium Clunicula | Glass Folium Anura | |
| Maroon Cafea Anura | Olive Tingo Clunicula | Glass Cafea Clunicula | |
| Maroon Picea Anura | Pink Pruni Clunicula | Glass Picea Clunicula | |
| Red Tingo Anura | Maroon Aurum Clunicula | Glass Tingo Clunicula | |
| Red Tingo Anura | Maroon Pruni Clunicula | Glass Pruni Clunicula | |
| Red Aurum Anura | Maroon Tingo Clunicula | Glass Tingo Clunicula | |
| Red Pruni Anura | Maroon Tingo Clunicula | Glass Pruni Clunicula | |
| Emerald Folium Anura | Maroon Cafea Clunicula | Glass Folium Anura | |
| Emerald Cafea Anura | Maroon Folium Clunicula | Glass Folium Anura | |
| Olive Tingo Anura | Maroon Callaina Clunicula | Glass Callaina Clunicula | |
| Olive Tingo Anura | Maroon Cafea Clunicula | Glass Cafea Clunicula | |
| Olive Carota Anura | Maroon Albeo Clunicula | Glass Carota Anura | |
| Olive Callaina Anura | Maroon Tingo Clunicula | Glass Callaina Clunicula | |
| Olive Albeo Anura | Maroon Carota Clunicula | Glass Carota Anura | |
| Olive Cafea Anura | Maroon Tingo Clunicula | Glass Cafea Clunicula | |
| Pink Carota Anura | Maroon Caelus Clunicula | Glass Carota Clunicula | |
| Pink Carota Anura | Maroon Albeo Clunicula | Glass Albeo Clunicula | |
| Pink Callaina Anura | Maroon Ceres Clunicula | Glass Callaina Clunicula | |
| Pink Caelus Anura | Maroon Carota Clunicula | Glass Carota Clunicula | |
| Pink Pruni Anura | Maroon Picea Clunicula | Glass Picea Clunicula | |
| Pink Pruni Anura | Black Picea Clunicula | Glass Picea Clunicula | |
| Pink Ceres Anura | Maroon Callaina Clunicula | Glass Callaina Clunicula | |
| Pink Albeo Anura | Maroon Carota Clunicula | Glass Albeo Clunicula | |
| Pink Picea Anura | Maroon Pruni Clunicula | Glass Picea Clunicula | |
| Pink Picea Anura | Black Pruni Clunicula | Glass Picea Clunicula | |
| Black Pruni Anura | Pink Picea Clunicula | Glass Picea Clunicula | |
| Black Picea Anura | Pink Pruni Clunicula | Glass Picea Clunicula | |
| Maroon Muscus Anura | Aqua Floris Marmorea | Glass Muscus Anura | |
| Maroon Callaina Anura | Aqua Chroma Marmorea | Glass Chroma Anura | |
| Maroon Floris Anura | Aqua Muscus Marmorea | Glass Muscus Anura | |
| Maroon Chroma Anura | Aqua Callaina Marmorea | Glass Chroma Anura | |
| Aqua Muscus Anura | Maroon Floris Marmorea | Glass Muscus Anura | |
| Aqua Callaina Anura | Maroon Chroma Marmorea | Glass Chroma Anura | |
| Aqua Floris Anura | Maroon Muscus Marmorea | Glass Muscus Anura | |
| Aqua Chroma Anura | Maroon Callaina Marmorea | Glass Chroma Anura | |
| Red Tingo Anura | Olive Cafea Puncti | Glass Tingo Puncti | |
| Red Cafea Anura | Olive Tingo Puncti | Glass Tingo Puncti | |
| Olive Tingo Anura | Red Cafea Puncti | Glass Tingo Puncti | |
| Olive Cafea Anura | Red Tingo Puncti | Glass Tingo Puncti | |
| Maroon Carota Anura | Tangelo Viola Tribus | Glass Carota Anura | |
| Maroon Viola Anura | Tangelo Carota Tribus | Glass Carota Anura | |
| Maroon Albeo Anura | Tangelo Chroma Tribus | Glass Carota Anura | |
| Maroon Chroma Anura | Tangelo Albeo Tribus | Glass Albeo Anura | |
| Red Tingo Anura | Tangelo Carota Tribus | Glass Carota Tribus | |
| Red Carota Anura | Tangelo Tingo Tribus | Glass Carota Tribus | |
| Tangelo Tingo Anura | Red Carota Tribus | Glass Carota Tribus | |
| Tangelo Carota Anura | Maroon Viola Tribus | Glass Carota Anura | |
| Tangelo Carota Anura | Red Tingo Tribus | Glass Carota Tribus | |
| Tangelo Viola Anura | Viola Carota Tribus | Glass Carota Anura | |
| Tangelo Albeo Anura | Maroon Chroma Tribus | Glass Albeo Anura | |
| Tangelo Chroma Anura | Maroon Albeo Tribus | Glass Albeo Anura | |
| Red Tingo Anura | White Albeo Lanterna | Glass Tingo Anura | |
| Red Aurum Anura | White Chroma Lanterna | Glass Aurum Anura | |
| Red Albeo Anura | White Tingo Lanterna | Glass Tingo Anura | |
| Red Chroma Anura | White Aurum Lanterna | Glass Aurum Anura | |
| White Tingo Anura | Red Albeo Lanterna | Glass Tingo Anura | |
| White Aurum Anura | Red Chroma Lanterna | Glass Aurum Anura | |
| White Albeo Anura | Red Tingo Lanterna | Glass Tingo Anura | |
| White Chroma Anura | Red Aurum Lanterna | Glass Aurum Anura | |
| Maroon Tingo Anura | Orange Ceres Zebrae | Glass Tingo Anura | |
| Maroon Folium Anura | Aqua Cafea Zebrae | Glass Cafea Zebrae | |
| Maroon Ceres Anura | Orange Tingo Zebrae | Glass Tingo Anura | |
| Maroon Ceres Anura | Aqua Cafea Zebrae | Glass Ceres Zebrae | |
| Maroon Cafea Anura | Aqua Folium Zebrae | Glass Cafea Zebrae | |
| Maroon Cafea Anura | Aqua Ceres Zebrae | Glass Ceres Zebrae | |
| Orange Tingo Anura | Maroon Ceres Zebrae | Glass Tingo Anura | |
| Orange Ceres Anura | Maroon Tingo Zebrae | Glass Tingo Anura | |
| Aqua Folium Anura | Maroon Cafea Zebrae | Glass Cafea Zebrae | |
| Aqua Ceres Anura | Maroon Cafea Zebrae | Glass Ceres Zebrae | |
| Aqua Cafea Anura | Maroon Folium Zebrae | Glass Cafea Zebrae | |
| Aqua Cafea Anura | Maroon Ceres Zebrae | Glass Ceres Zebrae | |
| Maroon Carota Anura | White Ceres Adamantis | Glass Carota Adamantis | |
| Maroon Carota Anura | White Bruna Adamantis | Glass Carota Anura | |
| Maroon Carota Anura | White Bruna Adamantis | Glass Bruna Adamantis | |
| Maroon Aurum Anura | Violet Cafea Adamantis | Glass Cafea Adamantis | |
| Maroon Caelus Anura | Marine Floris Adamantis | Glass Caelus Adamantis | |
| Maroon Caelus Anura | Marine Bruna Adamantis | Glass Bruna Adamantis | |
| Maroon Caelus Anura | White Bruna Adamantis | Glass Bruna Adamantis | |
| Maroon Ceres Anura | White Carota Adamantis | Glass Carota Adamantis | |
| Maroon Ceres Anura | White Albeo Adamantis | Glass Albeo Adamantis | |
| Maroon Floris Anura | Marine Caelus Adamantis | Glass Caelus Adamantis | |
| Maroon Albeo Anura | White Ceres Adamantis | Glass Albeo Adamantis | |
| Maroon Bruna Anura | Marine Caelus Adamantis | Glass Bruna Adamantis | |
| Maroon Bruna Anura | White Carota Adamantis | Glass Carota Anura | |
| Maroon Bruna Anura | White Carota Adamantis | Glass Bruna Adamantis | |
| Maroon Bruna Anura | White Caelus Adamantis | Glass Bruna Adamantis | |
| Maroon Bruna Anura | White Picea Adamantis | Glass Bruna Anura | |
| Maroon Cafea Anura | Violet Aurum Adamantis | Glass Cafea Adamantis | |
| Maroon Picea Anura | White Bruna Adamantis | Glass Bruna Anura | |
| Orange Ceres Anura | Royal Floris Adamantis | Glass Ceres Anura | |
| Orange Floris Anura | Royal Ceres Adamantis | Glass Ceres Anura | |
| Marine Caelus Anura | Maron Floris Adamantis | Glass Caelus Adamantis | |
| Marine Caelus Anura | Maroon Bruna Adamantis | Glass Bruna Adamantis | |
| Marine Floris Anura | Maroon Caelus Adamantis | Glass Caelus Adamantis | |
| Marine Bruna Anura | Maroon Caelus Adamantis | Glass Bruna Adamantis | |
| Royal Ceres Anura | Orange Floris Adamantis | Glass Ceres Anura | |
| Royal Floris Anura | Orange Ceres Adamantis | Glass Ceres Anura | |
| Violet Aurum Anura | Maroon Cafea Adamantis | Glass Cafea Adamantis | |
| Violet Cafea Anura | Maroon Aurum Adamantis | Glass Cafea Adamantis | |
| White Carota Anura | Maroon Ceres Adamantis | Glass Carota Adamantis | |
| White Carota Anura | Maroon Bruna Adamantis | Glass Carota Anura | |
| White Carota Anura | Maroon Bruna Adamantis | Glass Bruna Adamantis | |
| White Caelus Anura | Maroon Bruna Adamantis | Glass Bruna Adamantis | |
| White Ceres Anura | Maroon Carota Adamantis | Glass Carota Adamantis | |
| White Ceres Anura | Maroon Albeo Adamantis | Glass Albeo Adamantis | |
| White Albeo Anura | Maroon Ceres Adamantis | Glass Albeo Adamantis | |
| White Bruna Anura | Maroon Carota Adamantis | Glass Carota Anura | |
| White Bruna Anura | Maroon Carota Adamantis | Glass Bruna Adamantis | |
| White Bruna Anura | Maroon Caelus Adamantis | Glass Bruna Adamantis | |
| White Bruna Anura | Maron Picea Adamantis | Glass Bruna Anura | |
| White Picea Anura | Maroon Bruna Adamantis | Glass Bruna Anura | |
| Red Tingo Anura | Black Floris Africanus | Glass Tingo Anura | |
| Red Floris Anura | Black Tingo Africanus | Glass Tingo Anura | |
| Yellow Floris Anura | Black Floris Africanus | Glass Floris Anura | |
| Black Tingo Anura | Red Floris Africanus | Glass Tingo Anura | |
| Black Floris Anura | Red Tingo Africanus | Glass Tingo Anura | |
| Black Floris Anura | Yellow Floris Africanus | Glass Floris Anura | |
| Maroon Ceres Anura | Blue Ceres Partiri | Glass Chroma Anura | |
| Blue Ceres Anura | Maroon Ceres Partiri | Glass Chroma Anura | |
| Red Folium Anura | Purple Ceres Nasus | Glass Folium Anura | |
| Red Ceres Anura | Purple Folium Nasus | Glass Folium Anura | |
| Purple Folium Anura | Red Ceres Nasus | Glass Folium Anura | |
| Purple Ceres Anura | Red Folium Nasus | Glass Folium Anura | |
| Maroon Ceres Anura | Orange Ceres Roboris | Glass Ceres Anura | |
| Orange Ceres Anura | Maroon Ceres Roboris | Glass Ceres Anura | |
| Red Tingo Anura | Beige Folium Calyx | Glass Tingo Anura | |
| Blue Cafea Anura | Azure Bruna Calyx | Glass Bruna Anura | |
| White Caelus Anura | Blue Cafea Calyx | Glass Caelus Anura | |
| Maroon Aurum Anura | Cocos Albeo Viduo | Glass Albeo Anura | |
| Olive Cafea Anura | Azure Picea Viduo | Glass Picea Anura | |
| Marine Muscus Anura | Azure Picea Viduo | Glass Picea Anura | |
| Golden Aurum Anura | Green Ceres Stellata | Glass Aurum Stellata | |
| Golden Folium Anura | Green Pruni Stellata | Glass Folium Stellata | |
| Golden Pruni Anura | Green Folium Stellata | Glass Folium Stellata | |
| Golden Ceres Anura | Green Aurum Stellata | Glass Aurum Stellata | |
| Green Aurum Anura | Golden Ceres Stellata | Glass Aurum Stellata | |
| Green Folium Anura | Golden Pruni Stellata | Glass Folium Stellata | |
| Green Pruni Anura | Golden Folium Stellata | Glass Folium Stellata | |
| Green Ceres Anura | Golden Aurum Stellata | Glass Aurum Stellata | |
| Aqua Carota Anura | Black Floris Stellata | Glass Carota Stellata | |
| Aqua Floris Anura | Black Carota Stellata | Glass Carota Stellata | |
| Black Carota Anura | Aqua Floris Stellata | Glass Carota Stellata | |
| Black Floris Anura | Aqua Carota Stellata | Glass Carota Stellata | |
| Marine Muscus Anura | Maroon Callaina Lucus | Glass Callaina Anura | |
| Red Tingo Anura | Black Chroma Sol | Glass Tingo Sol | |
| Green Folium Anura | Black Chroma Sol | Glass Chroma Anura | |
| Emerald Muscus Anura | Golden Tingo Ligo | Glass Muscus Ligo | |
| Yellow Carota Anura | Black Aurum Insero | Glass Carota Insero | |
| Yellow Aurum Anura | Black Carota Insero | Glass Carota Insero | |
| Black Carota Anura | Yellow Aurum Insero | Glass Carota Insero | |
| Black Aurum Anura | Yellow Carota Insero | Glass Carota Insero | |
| Orange Caelus Anura | Orance Viola Ocularis | Glass Caelus Ocularis | |
| Orange Viola Anura | Orance Caelus Ocularis | Glass Caelus Ocularis | |
| Golden Aurum Anura | Tangelo Floris Gyrus | Glass Floris Gyrus | |
| Golden Floris Anura | Tangelo Aurum Gyrus | Glass Floris Gyrus | |
| Tangelo Aurum Anura | Golden Floris Gyrus | Glass Floris Gyrus | |
| Tangelo Floris Anura | Golden Aurum Gyrus | Glass Floris Gyrus | |
| Golden Aurum Anura | Emerald Picea Magus | Glass Picea Anura | |
| Golden Picea Anura | Emerald Aurum Magus | Glass Picea Anura | |
| Emerald Aurum Anura | Golden Picea Magus | Glass Picea Anura | |
| Emerald Picea Anura | Golden Aurum Magus | Glass Picea Anura | |
| Lime Carota Anura | Pink Muscus Templum | Glass Carota Templum | |
| Lime Folium Anura | Orange Albeo Templum | Glass Albeo Templum | |
| Lime Muscus Anura | Pink Carota Templum | Glass Carota Templum | |
| Pink Carota Anura | Lime Muscus Templum | Glass Carota Templum | |
| Pink Muscus Anura | Lime Carota Templum | Glass Carota Templum | |
| Red Muscus Anura | Lime Caelus Papilio | Glass Caelus Papilio | |
| Red Caelus Anura | Lime Muscus Papilio | Glass Caelus Papilio | |
| Lime Muscus Anura | Red Caelus Papilio | Glass Caelus Papilio | |
| Lime Caelus Anura | Red Muscus Papilio | Glass Caelus Papilio | |
| Emerald Muscus Anura | Blue Bruna Mustacium | Glass Bruna Mustacium | |
| Olive Cafea Anura | Maroon Pruni Palma | Glass Cafea Anura | |
| Violet Callaina Anura | Beige Floris Coclearis | Glass Callaina Anura | |
| Olive Cafea Anura | Red Carota Coclearis | Glass Carota Coclearis | |
| Yellow Carota Anura | Lime Aurum Axis | Glass Aurum Axis | |
| Yellow Aurum Anura | Lime Carota Axis | Glass Aurum Axis | |
| Lime Carota Anura | Yellow Aurum Axis | Glass Aurum Axis | |
| Lime Aurum Anura | Yellow Carota Axis | Glass Aurum Axis | |
| Emerald Muscus Anura | Pink Bruna Hennae | Glass Muscus Hennae | |
| Olive Cafea Anura | White Caelus Foramen | Glass Caelus Foramen | |
| Marine Muscus Anura | Green Callaina Foramen | Glass Muscus Foramen | |
| Maroon Muscus Crustalli | Marine Muscus Clunicula | Glass Muscus Crustalli | |
| Olive Muscus Crustalli | Violet Ceres Adamantis | Glass Muscus Adamantis | |
| Olive Ceres Crustalli | Violet Muscus Adamantis | Glass Muscus Adamantis | |
| Marine Muscus Crustalli | Maroon Muscus Clunicula | Glass Muscus Crustalli | |
| Red Cafea Crustalli | Red Tingo Adamantis | Glass Cafea Crustalli | |
| Violet Muscus Crustalli | Olive Ceres Adamantis | Glass Muscus Adamantis | |
| Violet Ceres Crustalli | Olive Muscus Adamantis | Glass Muscus Adamantis | |
| Maroon Tingo Crustalli | Pink Caelus Marinus | Glass Tingo Crustalli | |
| Yellow Ceres Velatus | Green Chroma Velatus | Glass Chroma Velatus | |
| Yellow Chroma Velatus | Green Ceres Velatus | Glass Chroma Velatus | |
| Azure Callaina Velatus | Olive Floris Velatus | Glass Callaina Velatus | |
| Maroon Tingo Velatus | Yellow Chroma Clunicula | Glass Chroma Clunicula | |
| Maroon Chroma Velatus | Yellow Tingo Clunicula | Glass Chroma Clunicula | |
| Yellow Tingo Velatus | Maroon Chroma Clunicula | Glass Chroma Clunicula | |
| Yellow Chroma Velatus | Maroon Tingo Clunicula | Glass Chroma Velatus | |
| Olive Viola Velatus | Blue Cafea Clunicula | Glass Chroma Clunicula | |
| Olive Cafea Velatus | Blue Viola Clunicula | Glass Chroma Clunicula | |
| Blue Viola Velatus | Olive Cafea Clunicula | Glass Chroma Clunicula | |
| Blue Cafea Velatus | Olive Viola Clunicula | Glass Chroma Clunicula | |
| Maroon Ceres Velatus | Yellow Carota Marmorea | Glass Chroma Velatus | |
| Royal Callaina Velatus | White Picea Africanus | Glass Picea Africanus | |
| Royal Pices Velatus | White Callaina Africanus | Glass Picea Africanus | |
| White Callaina Velatus | Royal Picea Africanus | Glass Picea Africanus | |
| White Picea Velatus | Royal Callaina Africanus | Glass Picea Africanus | |
| Cocos Folium Velatus | Black Pruni Pistrix | Glass Folium Velatus | |
| Cocos Pruni Velatus | Black Folium Pistrix | Glass Folium Velatus | |
| Black Folium Velatus | Cocos Pruni Pistrix | Glass Folium Velatus | |
| Black Pruni Velatus | Cocos Folium Pistrix | Glass Folium Velatus | |
| Tangelo Aurum Clunicula | Azure Bruna Clunicula | Glass Bruna Clunicula | |
| Tangelo Bruna Clunicula | Azure Aurum Clunicula | Glass Bruna Clunicula | |
| Golden Aurum Clunicula | Emerald Muscus Clunicula | Glass Aurum Clunicula | |
| Golden Muscus Clunicula | Emerald Aurum Clunicula | Glass Aurum Clunicula | |
| Yellow Aurum Clunicula | Cocos Bruna Clunicula | Glass Bruna Clunicula | |
| Yellow Bruna Clunicula | Cocos Aurum Clunicula | Glass Aurum Clunicula | |
| Lime Aurum Clunicula | Emerald Muscus Clunicula | Glass Aurum Clunicula | |
| Lime Muscus Clunicula | Emerald Aurum Clunicula | Glass Aurum Clunicula | |
| Azure Callaina Clunicula | Cocos Cafea Clunicula | Glass Callaina Clunicula | |
| Azure Cafea Clunicula | Cocos Callaina Clunicula | Glass Callaina Clunicula | |
| Blue Caelus Clunicula | Pink Ceres Clunicula | Glass Caelus Clunicula | |
| Royal Viola Clunicula | White Albeo Clunicula | Glass Albeo Clunicula | |
| Beige Bruna Clunicula | Black Picea Clunicula | Glass Picea Clunicula | |
| Beige Picea Clunicula | Black Bruna Clunicula | Glass Picea Clunicula | |
| Orange Picea Clunicula | Azure Chroma Adamantis | Glass Picea Clunicula | |
| Orange Chroma Clunicula | Azure Picea Adamantis | Glass Picea Adamantis | |
| Azure Picea Clunicula | Orange Chroma Adamantis | Glass Picea Clunicula | |
| Azure Chroma Clunicula | Orange Picea Adamantis | Glass Picea Clunicula | |
| Purple Caelus Clunicula | Royal Viola Adamantis | Glass Caelus Clunicula | |
| Purple Viola Clunicula | Royal Caelus Adamantis | Glass Caelus Clunicula | |
| Royal Caelus Clunicula | Purple Viola Adamantis | Glass Caelus Clunicula | |
| Royal Viola Clunicula | Purple Caelus Adamantis | Glass Caelus Clunicula | |
| Golden Albeo Puncti | Aqua Chroma Gyrus | Glass Albeo Puncti | |
| Golden Chroma Puncti | Aqua Albeo Gyrus | Glass Albeo Puncti | |
| Aqua Albeo Puncti | Golden Chroma Gyrus | Glass Albeo Puncti | |
| Aqua Chroma Puncti | Golden Albeo Gyrus | Glass Albeo Puncti | |
| Tangelo Viola Puncti | Azure Bruna Papilio | Glass Viola Papilio | |
| Tangelo Bruna Puncti | Azure Viola Papilio | Glass Viola Papilio | |
| Azure Viola Puncti | Tangelo Bruna Papilio | Glass Viola Papilio | |
| Azure Bruna Puncti | Tangelo Viola Papilio | Glass Viola Papilio | |
| Tangelo Pruni Lanterna | Royal Floris Adamantis | Glass Floris Adamantis | |
| Maroon Tingo Glacio | Red Tingo Lanterna | Glass Tingo Glacio | |
| Lime Muscus Glacio | Marine Cafea Viduo | Glass Muscus Glacio | |
| Lime Muscus Glacio | Marine Cafea Viduo | Glass Cafea Glacio | |
| Lime Cafea Glacio | Marine Muscus Viduo | Glass Muscus Glacio | |
| Lime Cafea Glacio | Marine Muscus Viduo | Glass Cafea Glacio | |
| Marine Muscus Glacio | Lime Cafea Viduo | Glass Muscus Glacio | |
| Marine Muscus Glacio | Lime Cafea Viduo | Glass Cafea Glacio | |
| Marine Cafea Glacio | Lime Muscus Viduo | Glass Muscus Glacio | |
| Marine Cafea Glacio | Lime Muscus Viduo | Glass Cafea Glacio | |
| Aqua Muscus Glacio | Cocos Bruna Pingo | Glass Bruna Glacio | |
| Aqua Bruna Glacio | Cocos Muscus Pingo | Glass Bruna Glacio | |
| Cocos Muscus Glacio | Aqua Bruna Pingo | Glass Bruna Glacio | |
| Cocos Bruna Glacio | Aqua Muscus Pingo | Glass Bruna Glacio | |
| Tangelo Aurum Glacio | Azure Bruna Bulbus | Glass Bruna Glacio | |
| Tangelo Bruna Glacio | Azure Aurum Bulbus | Glass Bruna Glacio | |
| Azure Aurum Glacio | Tangelo Bruna Bulbus | Glass Bruna Glacio | |
| Azure Bruna Glacio | Tangelo Aurum Bulbus | Glass Bruna Glacio | |
| Maroon Floris Ludo | Cocos Chroma Partiri | Glass Chroma Ludo | |
| Maroon Chroma Ludo | Cocos Floris Partiri | Glass Chroma Ludo | |
| Marine Viola Ludo | White Floris Partiri | Glass Floris Ludo | |
| Marine Floris Ludo | White Viola Partiri | Glass Floris Ludo | |
| White Viola Ludo | Marine Floris Partiri | Glass Floris Ludo | |
| White Floris Ludo | Marine Viola Partiri | Glass Floris Ludo | |
| Cocos Floris Ludo | Maroon Chroma Partiri | Glass Chroma Ludo | |
| Cocos Chroma Ludo | Maroon Floris Partiri | Glass Chroma Ludo | |
| Pink Ceres Calyx | Purple Tingo Spinae | Glass Ceres Calyx | |
| Golden Bruna Nimbilis | Violet Chroma Amfractus | Glass Chroma Nimbilis | |
| Golden Chroma Nimbilis | Violet Bruna Amfractus | Glass Chroma Nimbilis | |
| Violet Bruna Nimbilis | Golden Chroma Amfractus | Glass Chroma Nimbilis | |
| Violet Chroma Nimbilis | Golden Bruna Amfractus | Glass Chroma Nimbilis | |
| Red Folium Nimbilis | Blue Albeo Ornatus | Glass Folium Nimbilis | |
| Red Albeo Nimbilis | Blue Folium Ornatus | Glass Folium Nimbilis | |
| Blue Folium Nimbilis | Red Albeo Ornatus | Glass Folium Nimbilis | |
| Blue Albeo Nimbilis | Red Folium Ornatus | Glass Folium Nimbilis | |
| Blue Tingo Bulla | Violet Aurum Biplex | Glass Aurum Bulla | |
| Blue Aurum Bulla | Violet Tingo Biplex | Glass Aurum Bulla | |
| Violet Tingo Bulla | Blue Aurum Biplex | Glass Aurum Bulla | |
| Violet Aurum Bulla | Blue Tingo Biplex | Glass Aurum Bulla | |
| Maroon Aurum Bulla | Violet Albeo Skeletos | Glass Aurum Skeletos | |
| Maroon Albeo Bulla | Violet Aurum Skeletos | Glass Aurum Skeletos | |
| Violet Aurum Bulla | Maroon Albeo Skeletos | Glass Aurum Skeletos | |
| Violet Albeo Bulla | Maroon Aurum Skeletos | Glass Aurum Skeletos | |
| Tangelo Muscus Amfractus | Emerald Picea Sagitta | Glass Muscus Amfractus | |
| Tangelo Picea Amfractus | Emerald Muscus Sagitta | Glass Muscus Amfractus | |
| Emerald Muscus Amfractus | Tangelo Picea Sagitta | Glass Muscus Amfractus | |
| Emerald Picea Amfractus | Tangelo Muscus Sagitta | Glass Muscus Amfractus | |
| Lime Tingo Amfractus | Purple Callaina Biplex | Glass Tingo Amfractus | |
| Lime Callaina Amfractus | Purple Tingo Biplex | Glass Tingo Amfractus | |
| Purple Tingo Amfractus | Lime Callaina Biplex | Glass Tingo Amfractus | |
| Purple Callaina Amfractus | Lime Tingo Biplex | Glass Tingo Amfractus | |
| Tangelo Folium Sol | Green Pruni Obaro | Glass Pruni Sol | |
| Tangelo Pruni Sol | Green Folium Obaro | Glass Pruni Sol | |
| Green Folium Sol | Tangelo Pruni Obaro | Glass Pruni Sol | |
| Green Pruni Sol | Tangelo Folium Obaro | Glass Pruni Sol | |
| Green Carota Obaro | Blue Picea Ligo | Glass Carota Obaro | |
| Golden Callaina Lucus | Black Callaina Lucus | Glass Callaina Lucus | |
| Red Pruni Persona | Royal Floris Lotus | Glass Pruni Persona | |
| Red Floris Persona | Royal Pruni Lotus | Glass Pruni Persona | |
| Royal Pruni Persona | Red Floris Lotus | Glass Pruni Persona | |
| Royal Floris Persona | Red Pruni Lotus | Glass Pruni Persona | |
| Tangelo Cafea Corona | Emerald Albeo Arbor | Glass Albeo Arbor | |
| Olive Floris Vinaceus | Aqua Muscus Corona | Glass Muscus Vinaceus | |
| Golden Caelus Insero | Lime Caelus Floresco | Glass Caelus Floresco | |
| Lime Caelus Insero | Golden Caelus Floresco | Glass Caelus Floresco | |
| Lime Callaina Biplex | Marine Cafea Calvaria | Glass Cafea Biplex | |
| Lime Cafea Biplex | Marine Callaina Calvaria | Glass Cafea Biplex | |
| Marine Callaina Biplex | Lime Cafea Calvaria | Glass Cafea Biplex | |
| Marine Cafea Biplex | Lime Callaina Calvaria | Glass Cafea Biplex | |
| Emerald Albeo Calvaria | Marine Cafea Calvaria | Glass Albeo Calvaria | |
| Emerald Cafea Calvaria | Marine Albeo Calvaria | Glass Albeo Calvaria | |
| Maroon Ceres Calvaria | Black Picea Magus | Glass Picea Magus | |
| Maroon Picea Calvaria | Black Ceres Magus | Glass Picea Magus | |
| Black Ceres Calvaria | Maroon Picea Magus | Glass Picea Magus | |
| Black Picea Calvaria | Maroon Ceres Magus | Glass Picea Magus | |
| Red Muscus Calvaria | Maroon Viola Pictoris | Glass Muscus Calvaria | |
| Green Caelus Magus | Black Ceres Veru | Glass Ceres Magus | |
| Green Ceres Magus | Black Caelus Veru | Glass Ceres Magus | |
| Black Caelus Magus | Green Ceres Veru | Glass Ceres Magus | |
| Black Ceres Magus | Green Caelus Veru | Glass Ceres Magus | |
| Maroon Caelus Veru | Green Cafea Veru | Glass Caelus Veru | |
| Maroon Cafea Veru | Green Caelus Veru | Glass Caelus Veru | |
| Tangelo Aurum Veru | Marine Albeo Veru | Glass Aurum Veru | |
| Tangelo Albeo Veru | Marine Aurum Veru | Glass Aurum Veru | |
| Emerald Floris Veru | Marine Albeo Veru | Glass Albeo Veru | |
| Emerald Albeo Veru | Marine Floris Veru | Glass Albeo Veru | |
| Yellow Floris Figularis | Royal Albeo Figularis | Glass Albeo Figularis | |
| Green Picea Anura | Green Folium Dextera | Glass Folium Anura | |
| Green Folium Anura | Green Ceres Marinus | Glass Folium Marinus | |
| Green Caelus Anura | Green Ceres Marinus | Glass Ceres Marinus | |
| Green Chroma Anura | Violet Picea Arcus | Glass Picea Arcus | |
| Green Chroma Anura | Golden Folium Clunicula | Glass Folium Clunicula | |
| Red Folium Anura | Cocos Caelus Infinitas | Glass Caelus Anura | |
| Red Maroon Dimidius | Yellow Aurum Dimidius | Glass Maroon Dimidius | X |
| Marine Callaina Dimidius | Violet Floris Dimidius | Glass Callaina Dimidius | X |