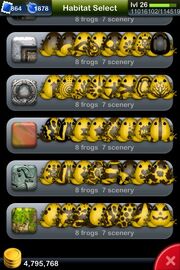 Cafea is a dark brown pattern or secondary color for frogs. "Cafea" is a rare non-Latin-based color name, it comes from the Spanish café meaning "coffee" or "brown." The Cafea color is a darker brown than both the Cocos base color and the Bruna pattern color.
Cafea frogs are required for only two awards:
Both awards pair Cafea with the Cocos base color.
Weekly Sets
Green Garland: 3x Cocos Cafea Pulvillus
Lights in the Tree: 2x Olive Cafea Arbor
Ice Cream Sundae: White Cafea Persona, Cocos Cafea Persona, Pink Cafea Persona
Deep Freeze: 2x White Cafea Arbor
Smore: Cocos Cafea Bovis x2
Apple Halves: White Cafea Floresco x2
Mud Skippers: Beige Cafea Dextera x2, Cocos Cafea Dextera x2
Deep Freeze: White Cafea Arbor x2